Coco Luxe – Hydration Coconut Water

I was super excited to receive another bottle of Coco Luxe – Hydration from Daily Goodie Box this month. I absolutely love coconut water. The taste of Coco Luxe just hits the spot, especially when I need to hydrate quickly. If you are a coconut water lover, do yourself a favor and try Coco Luxe.
Coconut water also has great benefits:
Previous Post:
CocoLuxe
Product: Coco Luxe – Hydration
Wesbite: Coco Luxe
Instagram: @CocoLuxeLife
Twitter: N/A
Facebook: @CocoLuxeLife
Natralia – Anti-Itch Soothing Cream



I have been lucky enough to try a few different products from Natralia in past Daily Goodie Boxes. The Anti-Itch Soothing Cream really does help. I keep it handy for bites and skin irritations. It worked well on my son's sensitive skin, too.
Previous Posts:
Anti Itch
Heel Balm
Eczema Moisturizing Lotion
Product: Anti-Itch Soothing Cream
Website: Natralia
Instagram: @Natralia_US
Twitter: @NatraliaUSA
Facebook: @NatraliaUSA
Eco Lips – MONGO KISS Lip Balm



Lip Balm is something I can't leave the house without. I must have one in my pocket, one in my purse and I have several scattered throughout the house. I typically go for the unscented, but once in a while I like a flavored balm.
Last month, I received a Lip Balm of Eco Lips – MONGO KISS™ Lip Balm in my Daily Goodie Box. It was a Blood Orange Flavor. The whole family LOVED the flavor. This month, I received two different flavors: Yumberry and Vanilla Honey . I really like the names of the flavors as I don't think I have seen much in these flavors.
The Yumberry kind of reminded me of a subtle cherry/raspberry balm.
The Vanilla Honey smelled more like honey to me than vanilla. And that's not a bad thing. Very subtle flavor.
Product: MONGO KISS™ Lip Balm
Website: Eco Lips
SOCIAL MEDIA
Instagram: @EcoLips
Twitter: @EcoLips
Facebook: @EcoLips
Previous Posts on Eco Lips :
Mongo Kiss
Natural Face Oils
Hemp Balm
Skinny Crisps -Gourmet Crackers
If you have been following me for a bit, you will know that I am a snacker. I don't eat big meals, I just kind of snack when I can get hungry. So I am always looking for new and tasty healthy snacks.
Daily Goodie Box included a bag of Skinny Crisps Gourmet Crackers. Let me tell you, I was not prepared for how much I was going to enjoy this snack. The flavor is Chocolate Mint and boy is it good! Love the size of the cracker. The smell of chocolatey mint hit my nose the second I open the bag. Not only does it smell good, it tasted great! These handmade squares of awesome really hit the spot!
I looked over their other flavors and I want to try them all! BIG FAN!
Product: Gourmet Crackers
Website: Skinny Crisps
Instagram: @skinnycrispsglutenfree
Twitter: N/A
Facebook: @SkinnyCrisps

Nature Nate's – Raw Unfiltered Honey

Our household has been eating honey a lot more lately. Especially since it helps with congestion. Tis' the season for colds! My Daily Goodie Box came at a great time and included some samples of Nature Nate's Raw Unfiltered Honey.
I love the packaging. Small "spoonfuls of honey". Bend and tear at the top and give it a little squeeze. Wow, this honey tastes amazing. The package keeps it from being messy. This is the perfect way to eat honey. I know my boys will be all about it when they get home today.
Read more about the benefits of Raw Honey
Product: Raw Unfiltered Honey
Website: Nature Nate's
Instagram: @NatureNates
Twitter: @NatureNates
Facebook: @NatureNates
Flathau's Fine Foods – Cheese Straws
Let's start this post by saying, I love cheese. Daily Goodie Box sent a package of Flathau's Fine Foods Cheese Straws in this month's box. Here is another product that I wasn't prepared for how much I would like it. The straw itself is nice size. Crunchy but easy to bite into. I immediately could taste the sharp cheddar (my favorite), and then after a minute or so, I could taste more of the seasoning. I love it.
I am really glad I tried these first before the boys get home. I doubt I will have any left. This is going to be a big hit. DELISH!
Previous Post:
Shortbread Cookies
Product: Cheese Straws
Website: Flathau's Fine Foods
Instagram: @FlathausFineFoods
Twitter: @FlathauF
Facebook: @FlathausFineFoods
Pure Lyft – All Natural Caffeine Powder
I am starting to get into water enhancers these days. I didn't used to drink a lot of water but I have forced myself to drink more water and less soda lately. And I am enjoying it.
Daily Goodie Box included some samples of All Natural Caffeine Powder from Pure LYFT. I had never seen something like this, or at least the unique and cool packaging. I was sent 4 different flavors: Original, Orange, Mixed Berry, and Lemon-Lime.
Mixed Berry was the one that jumped out at me, so that's what I'll try first. The rest, I am going to send with my husband to work. It would be great for an afternoon pick me up without the sugar of a soda.
So the Mixed Berry tasted pretty good. It is a very subtle flavoring. But I could see myself enjoying from time to time. Love that after you Pop and Pour, you use the vessel to stir as well. Very cool idea!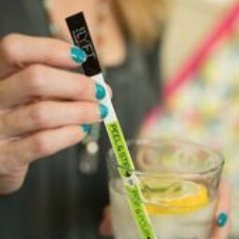 Product: All Natural Caffeine Powder
Website: Pure LYFT
Instagram: @pureLYFT
Twitter: @pureLYFT
Facebook: @pureLYFTenergy
DAILY GOODIE BOX
IT'S MORE THAN JUST FREE SAMPLES!
I RECEIVED THIS DAILY GOODIE BOX FOR FREE.
IF YOU WANT A CHANCE TO RECEIVE YOUR OWN,
GO TO WWW.DAILYGOODIEBOX.COM