I am starting to get into water enhancers these days. I didn't used to drink a lot of water but I have forced myself to drink more water and less soda lately. And I am enjoying it.
Daily Goodie Box included some samples of All Natural Caffeine Powder from Pure LYFT. I had never seen something like this, or at least the unique and cool packaging. I was sent 4 different flavors: Original, Orange, Mixed Berry, and Lemon-Lime.
Mixed Berry was the one that jumped out at me, so that's what I'll try first. The rest, I am going to send with my husband to work. It would be great for an afternoon pick me up without the sugar of a soda.
So the Mixed Berry tasted pretty good. It is a very subtle flavoring. But I could see myself enjoying from time to time. Love that after you Pop and Pour, you use the vessel to stir as well. Very cool idea!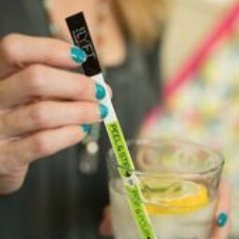 Product: All Natural Caffeine Powder
Website: Pure LYFT
Instagram: @pureLYFT
Twitter: @pureLYFT
Facebook: @pureLYFTenergy
DAILY GOODIE BOX
IT'S MORE THAN JUST FREE SAMPLES!
I RECEIVED THIS DAILY GOODIE BOX FOR FREE.
IF YOU WANT A CHANCE TO RECEIVE YOUR OWN,
GO TO WWW.DAILYGOODIEBOX.COM